Garden updates.. and some shopping :)
I have noticed that no matter what i go out for, i end up coming home with some(or lots) plants.. Yesterday was no different when i came home with this bunch…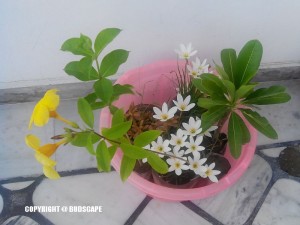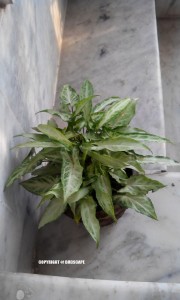 Finally i found mandevilla and at quite a competitive rate from the nurseries in ludhiana ( read Rs. 50 vs Rs. 600).. I'm so impressed with the price and the fact that it is actually available that if better sense doesn't prevail i may come home with a few backup plants next time.. Also i've been dying to try the layering technique for propagation, which i haven't ever, so guess which plant is going to be my guinea pig?? The rainy weather is perfect for garden experiments and i have also been sowing some seeds randomly from the huge stash i have.. some of the seeds are very old and some are not but lets see what comes up.. anything that does is good 🙂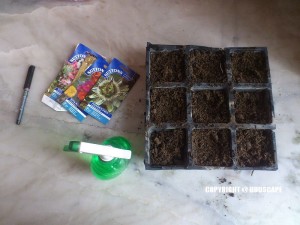 Speaking of the rain, i could not resist the pots of white beauty and bought two for Rs. 60 to adorn my garden.. I don't plan to re-pot them as they are doing fine and don't need to be disturbed during the flowering cycle..
Rain lilies or Zephyranthes lilies are the flowers of my childhood.. at my parent's home, my grandparents planted them long before even i was born in window boxes that are a part of our compound wall.. they have been in-there for as long as i have seen with nobody ever wanting to change their place.. when in full bloom, the clusters of pink have been witness to many passerby's stopping to admire them… bulbs have been shared from those pots and divided too but never replaced.. i rem once we had to get the window boxes re-inforced with the crowding bulbs threatening to crack them but they have been good ever since..
This reminds me that i am going through a white-flower-obsession phase again and it doesn't seem to be a shirt-term affair.. On my hunt-list are(all in white):
Gerbera
Carnation
Lagerstroemia
Hibiscus
Bougainvillea
Plumeria
I also seem to have found a new respect for monsoon flowering perennials and been hoarding them without any shame! So far my new-garden-in-progress contains:
Plumerias
Carnation
Lemon
Ornamental chillies
Jasmine
Violet
Pothos
Mint(the one i got all the way from kashmir)
Roses
Alamanda
Mandevilla
Areca Palms
Ferns
Asparagus
Variegated grass
Adeniums
Holy Basil
Hibiscus ( a gorgeous velvety pink and a double orange)
Succulents and a few filler plants
Small list isn't it? Don't worry i plant to make it quite a long one within the next two months.. Going by the weather, cooler weather should strike by October again this and i am all set and excited to sow seeds by mid-sep.. Being a landscape designer has wisened me up over the years and this year i know better than to sow hundreds of seed packets and have no place for the thousands of seedlings.. I will be growing only winter-sown perennials by seed or some like dianthus and marigold that i absolutely need to grow in bulk to please my senses.. or maybe some very special varieties that are not sold commonly anyway.. for the other common flowering varieties, i will be buying few seedlings from a reliable source. There..It's all sorted.. Now only if i can resist those tempting seed racks and catalogs ( *slaps myself and reminds of the huge box of unsown seeds lying in the cupboard*)
P.S. Can't wait for carnations and geraniums!!
JOIN OUR GARDENING COMMUNITY ON FB FOR MORE TIPS AND TRICKS!
https://www.facebook.com/groups/1629966650655491/
Subscribe in a reader