Geraniums as cut-flowers.. Experimenting yet again!
If i had a choice, i'd be growing gerberas, geraniums and carnations indoors. I'd probably replace all lamps, vases and the likes with pots n pots of blooming flowers.. *sigh* and live happily ever after!
Since i can't do that(co-habitation you see) and the weather doesn't allow that either, the best thing to do is bring some of the beauty indoors as cut flowers. Carnations and gerberas are well known as florists' flowers but today i brought some geraniums indoors to see if they do well. This is done with the motto to control midnight cravings to run outdoors to see the blooming geraniums(I'm serious.. it happens
to me every season)
Last year i'd made the mistake of bringing indoors sticks that were in full bloom and hence destined to shed soon. Silly me had not given it a thought and marked off geraniums as the non-cut flower type.
This year though i've put common sense to use and experimenting with some just starting-to-bloom sticks. *fingers crossed*
Meanwhile, enjoy the cuteness!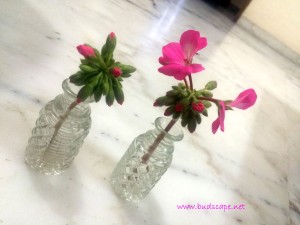 JOIN OUR GARDENING COMMUNITY ON FB FOR MORE TIPS AND TRICKS!
https://www.facebook.com/groups/1629966650655491/
Subscribe in a reader