HOW TO GROW CARNATION PLANT FROM FLOWER STICKS
Where i live, two plants always elude me – carnations and gerberas. The nurseries never get them and hence, i tend to hoard them wherever i find them. While i am yet to find good seeds for gerbera, i am never satisfied with the carnations we get from seeds. This experiment is a result of my cravings for the big carnations often sold at florists. This post is in continuation to an earlier one wherein i'd tried to root a carnation flower stick into a plant. I am also extremely happy to announce that it has been a surprisingly successful attempt and my carnation plant is now happily growing, ready to bloom this season. I am documenting the complete process again for all those who have been trying to experiment with the same. I will also be listing a few pointers/observations at the end of this post, for those trying this for the first time.
Before this successful attempt, my annual visits to palampur were complete only if i could get my hands on the carnation plants. Now, i can just go to the florist and pick the colors i like to turn into plants 🙂
STEP 1
Buy some fresh and healthy carnation sticks, with straight green stems. If you are trying this from a bouquet you received, choose the freshest looking sticks.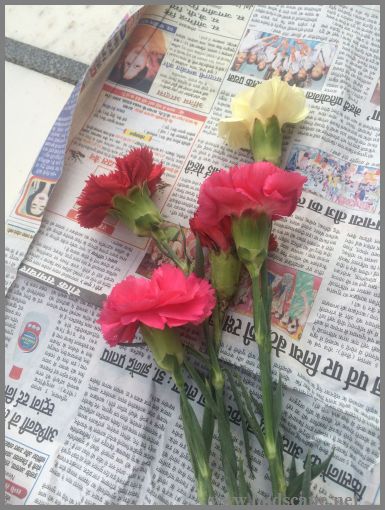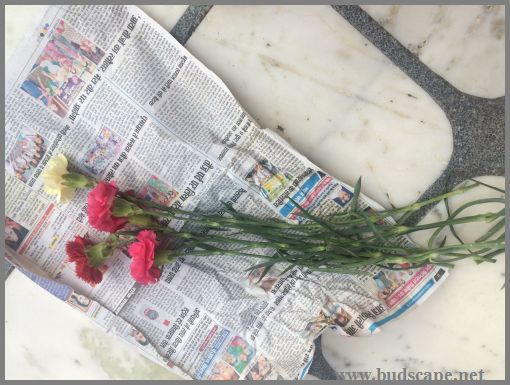 STEP 2
Cut the stems into smaller lengths with 2-3 nodes per stick. Nodes are important because that's where the roots as well as leaves sprout from. Cut each stem into sections keeping the cut just below the node.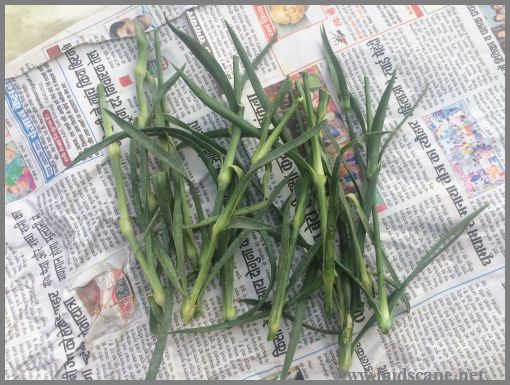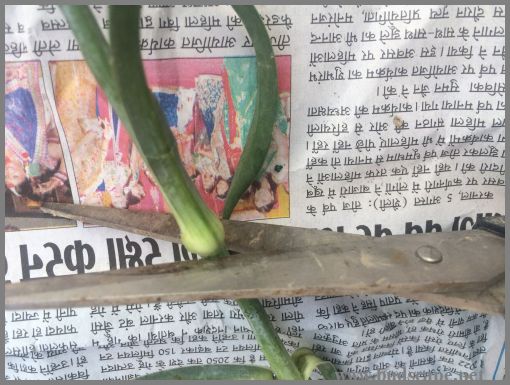 STEP 3
Remove all leaves above the last node.(This will go into the soil)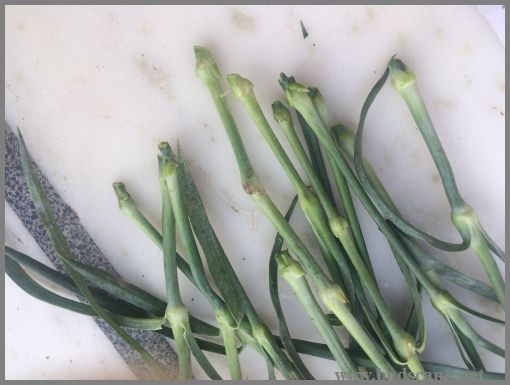 Subscribe in a reader
STEP 4
Prepare the soil. Mix 2/3 compost(or rich garden soil) with 1/3 sand in a pot. I used terracotta.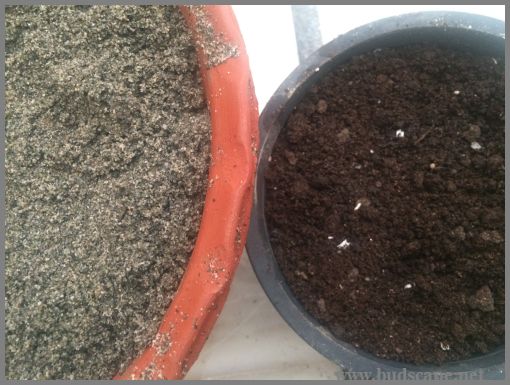 STEP 5
Wet the end of each stick and dip into rooting hormone. I find that using rooting hormone yields better results. I bought this one from Sutton seeds and it works great!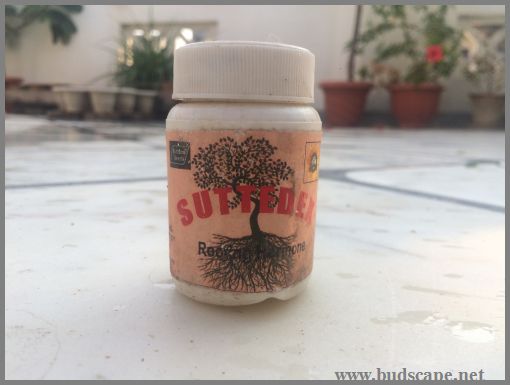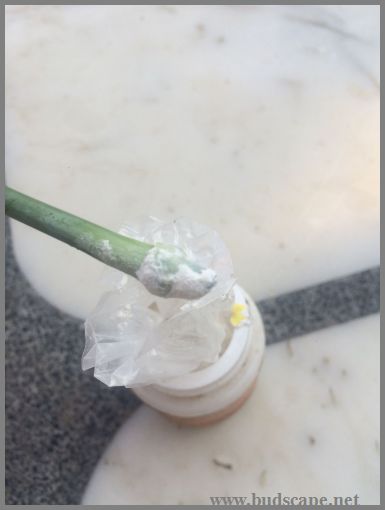 STEP 6
Stick in the pot making sure the last node is at-least 1″ deep into the soil.
STEP 7
Cut off the base of a plastic bottle. Spray the cuttings with plain water and cover with the bottle. Keep the bottle cap on. This will retain moisture while the cuttings root. You can open the cap to mist the cuttings and put it back on.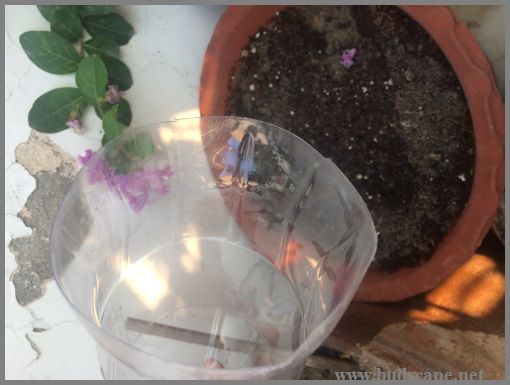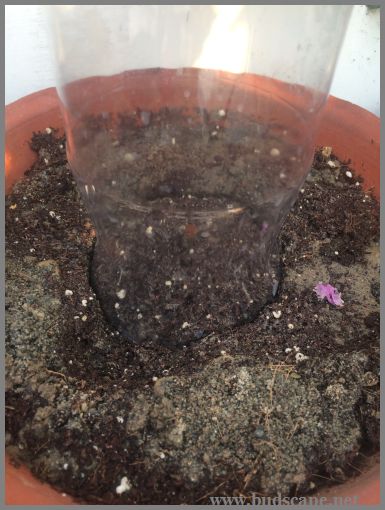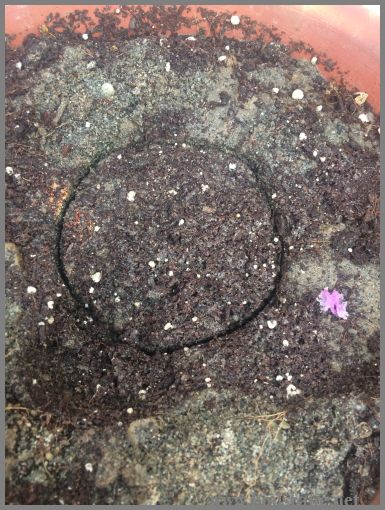 Subscribe in a reader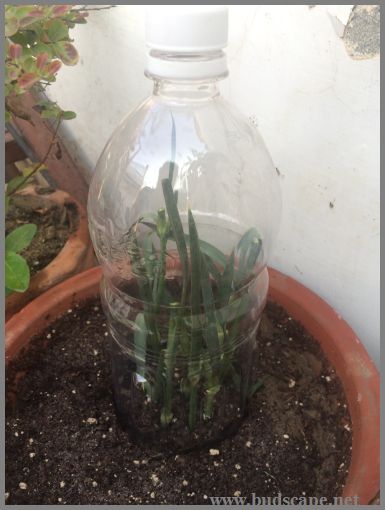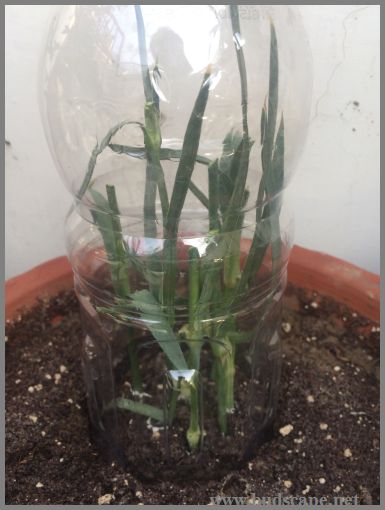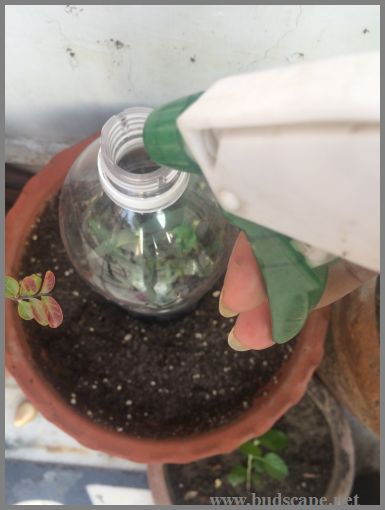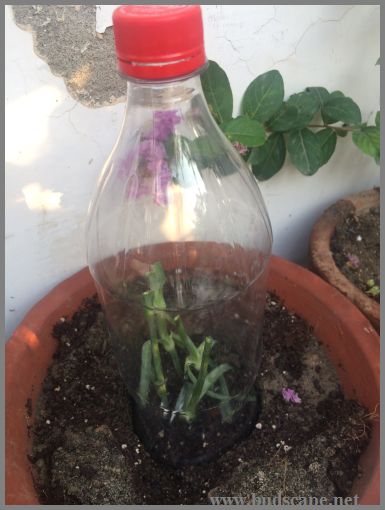 STEP 8
That's it! Keep the pot in semi-shade and mist only when you see the inside of the bottle almost dry. Water the pot sparingly. It will be a few days before you see fresh growth. Once you spot it,loosen the bottle cap. After a few days, start removing the cap for a few hours and then put it back on. Once the fresh growth looks noticeable, remove the bottle but keep the pot in shade. Enjoy your new plant!!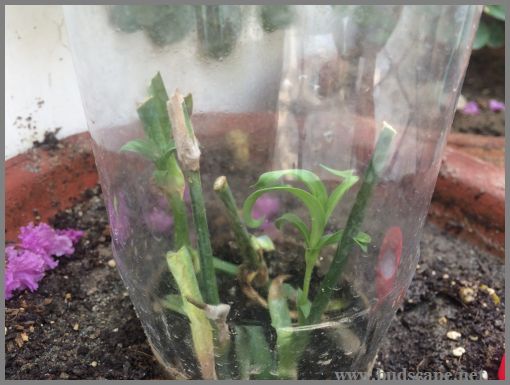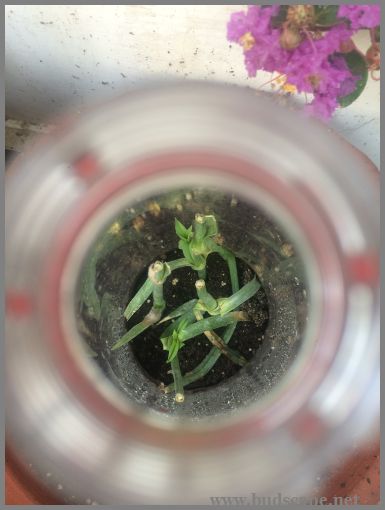 Here's mine..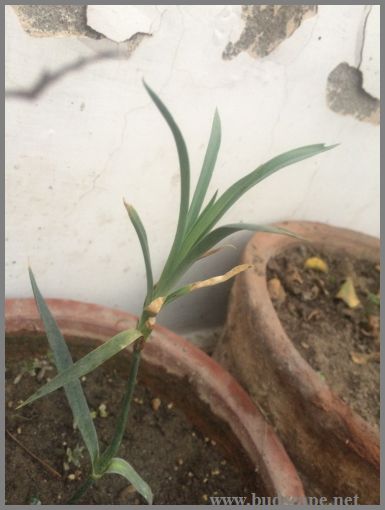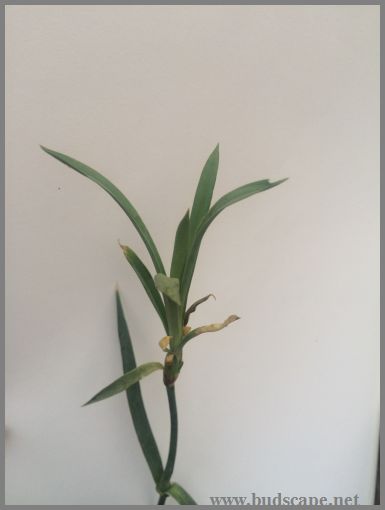 TIPS & TRICKS FOR ROOTING A CARNATION STICK
1. Success rate is moderate and depends on weather. I did this while the weather was still moderately hot and had 50% success. Some cuttings died later due to heat.
2. Do not over water or over mist. Too much water will cause the cuttings to rot before they can sprout. Follow your instincts here.
3. Propagate in a pot where you can leave it for a while to grow. If you transplant it too early, it may die. I will let mine grow in this pot for the season and transplant only after a few months.
Subscribe in a reader
4. Rooting hormone really helps. Try not to skip it.
5. Fresher the stick, higher the chances. Press to stick with your fingers to see if it feels stiff. If it is not, do not use.
6. If you are buying some for this purpose, keep all the equipment ready and plant as soon as you get home. It is not advisable to keep them in water at home. If you have to, insert only the bottom 1″ in water and cut off that part before you begin.
JOIN OUR GARDENING COMMUNITY ON FB FOR MORE TIPS AND TRICKS!

Subscribe in a reader