HOW TO GROW LEMONGRASS – USES AND BENEFITS
I am totally a spa person. But more than the treatments, what attracts me to spas is the ambience. It's almost like walking into a different world – dimly-lit, serene, calming and amazingly FRAGRANT! For years, i have tried to figure out what exactly attracts me to certain spas, salons and even posh hotel washrooms. Turns out, it's my secret(not anymore) love for the LEMONGRASS fragrance!
Lemongrass( Botanical name: CYMBOPOGON )is an amazingly fragrant herb with a variety of uses in the culinary, health, beauty and home departments. The sweet, tangy, citrus and sharp fragrance is almost inexplicable in words though amazingly calming for the senses! I do feel, that, in India, it is one of the most under-rated herbs as we do not use it much in cooking.
Have i mentioned yet, that it is anti-fungal, anti-microbial and anti-bacterial along with the fact that it is super-easy to grow, maintain and use!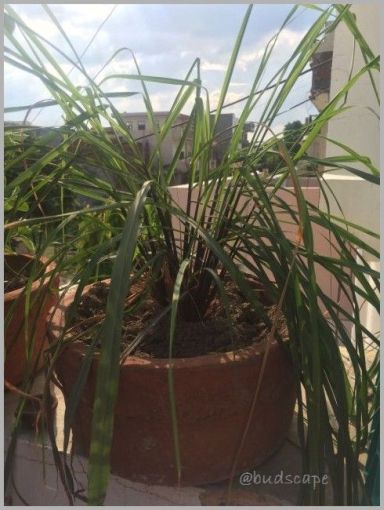 HOW TO GROW LEMONGRASS?
SEEDS: Seeds are easily available and can be thrown in a good, light soil mix to germinate. Once established, move to a permanent spot.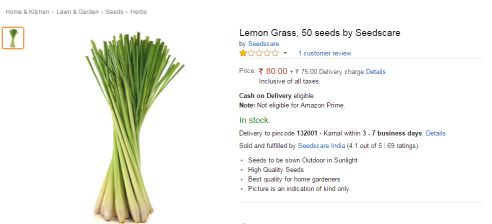 ROOT: Lemongrass propagates from roots. So if someone has a plant, just ask for a shoot with some roots. Do this in warm rainy weather, preferably. It will take off quickly and easily. Even if the existing leaves die back, fret not, it will come back!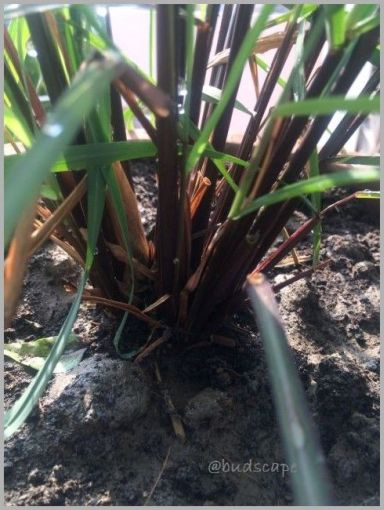 ROOTING IN WATER: Just like mint, if you have a piece of lemongrass(with the base intact) bought from the store, just stick it in water and leave by a windowsill. It will soon sprout roots, after which you can plant it where you would like to. Just keep changing the water every 2 days.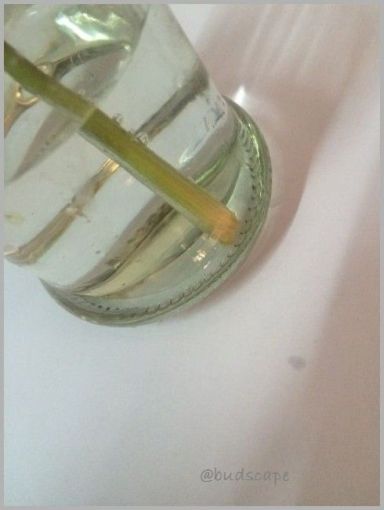 LEMONGRASS CARE
Caring is easy! Lemongrass is a tropical plant at heart. Just water regularly while planted in well-drained soil and you shouldn't encounter any major issues. It grows well in summers and takes a little time off in winters. As with any herb, pick regularly to encourage growth. The shoots are ready to harvest once you see them thickening at the base and it will spread as much as you allow it to.
If you have seen lemongrass sticks only in stores, it may be difficult for you to recognize the plant that looks like wild overgrown grass with long thin blades of leaves. It also isn't a very sightly plant but extremely useful nonetheless. A dead giveaway is actually the smell. Touching the leaves or crushing them in your hands leaves an unmistakable fragrance!
HARVESTING LEMONGRASS
The shoots that are used in cooking come from the base of the plant. Mine is still a young one so hasn't formed very thick stems yet but it generally does so as it spreads. Just identify a nice thick stem and slice it with a knife as far down as possible. The stem has layers, so remove the outer shell to reveal a soft firm inner stem. THIS part along with the leaves has an impressive number of uses! Let's explore some!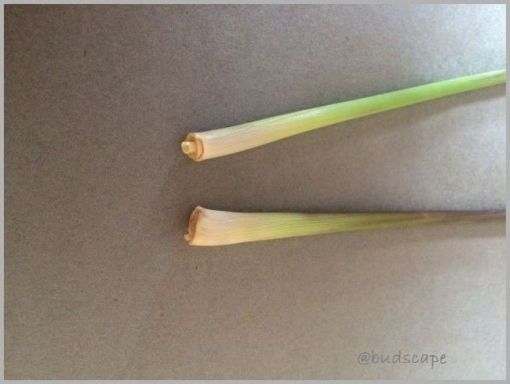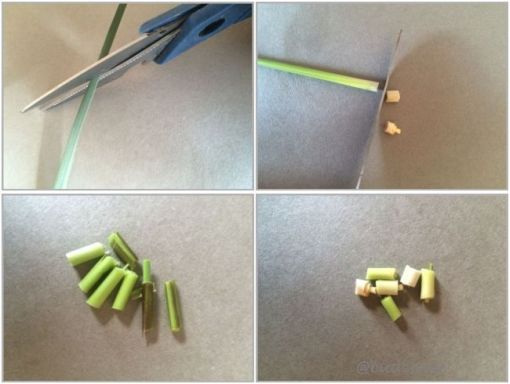 CULINARY USES OF LEMONGRASS
Lemongrass is a staple in Thai cooking. It is used to flavor most soups, sauces, curries and drinks. If you wish to preserve some for cooking, the best way to do so is to wrap the stem in cling-wrap and freeze.
It is also possible to dry the stem and powder for use. Some people like to grate the stem and add to curries for flavour.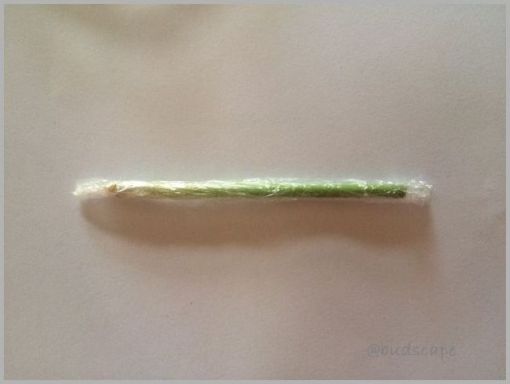 HEALTH BENEFITS AND USES OF LEMONGRASS
LEMONGRASS TEA: You may use a piece of stalk to flavour your herbal tea. Another way to go about it is to chop the stem and boil in water till the water is colored green. Filter and drink. It can be flavored with ginger or honey as well.
Consumption of lemongrass is known to relieve bodily pains, arthritis, control cholesterol and has a general calming, detoxifying effect.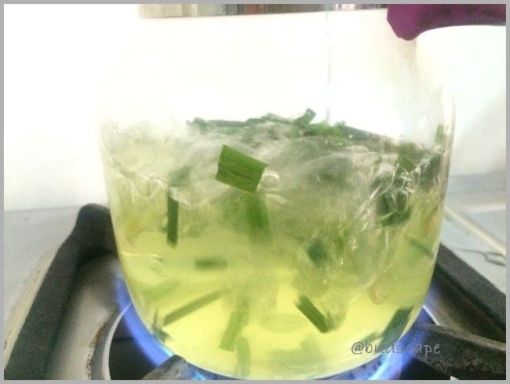 I use my favourite(i'm obsessed) Borosil kettle to make herbal teas every day as it makes the whole process appear very fancy and encourages me to consume healthy stuff. Also, watching a glass kettle on flame is kinda fascinating! I do have another big one from Treo but love my Borosil more!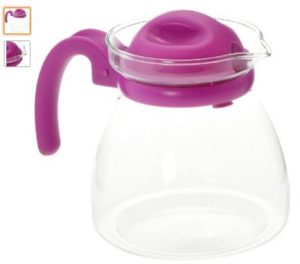 BEAUTY USES OF LEMONGRASS
DIY LEMONGRASS TONER: The above mentioned tea also doubles up as a toner. Just boil some leaves along with the stems and allow the water to reduce to half. Filter and store in the fridge. You may also add a complimenting essential oil like orange or tea-tree to it. Use like a regular toner to see it's skin-clearing benefits.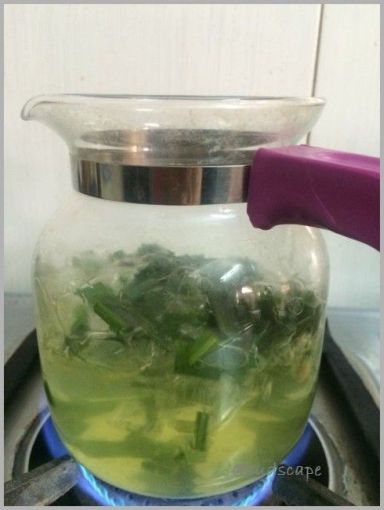 DIY LEMONGRASS OIL: Infuse some crushed leaves and stems into a carrier oil like olive, apricot or jojoba. Keep this is sunlight for a month before using. You can also boil the mixture above on slow heat for instant oil. This oil is excellent for body massage as it heals and relieves pains. It is also good for applying on the scalp for a cleansing cooling effect. This oil can also be used as an ingredient in homemade balms and wellness products.
LEMONGRASS FOOT SOAK: A mug of lemongrass tea along with a few drops of oil can also to added to warm water for an excellent foot soak. It instantly soothes tired, swollen and sweaty feet.
Talking of foot soak, i recently got a lemongrass foot soak and massage balm in my subscription bag, from my favourite skin care brand THE NATURES CO. that manufactures all natural wellness products. I must admit, without bias, that nothing has helped my injured feet as much as the combination of this balm and foot spray! Absolutely stress-relieving and soothing along with smelling sooo good! I have injuries on both my feet and they swell when i walk too much, but the balm cures the swelling in a jiffy! Almost like a spa massage! The products are a must-try! They are also a proof of how well lemongrass actually works.
LEMONGRASS AROUND THE HOUSE
Lemongrass is known to repel insects so it is anyhow good to grow in the garden. But, you can also bring the fragrance indoors by using it in a diffuser, like this one. 
Crush some stems to release the oils. Add some water and pour the whole thing into an oil diffuser bowl. Light up and enjoy the aroma around your house.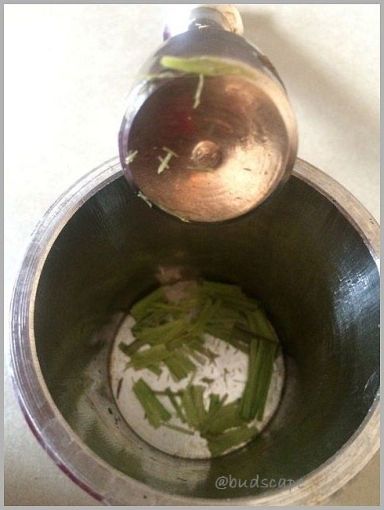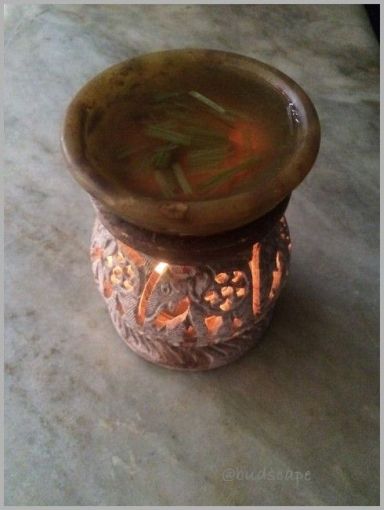 Do note, this works well only if you have a big diffuser bowl because a good quantity is needed to produce enough aroma. Otherwise, you may choose to supplement it with lemongrass oil available bottled, though that beats the purpose of growing and using it.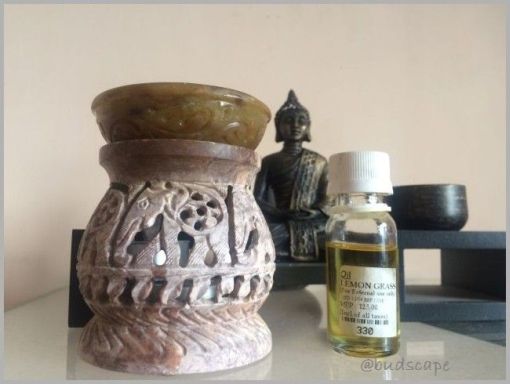 These are some of the ways i have personally tried and tested to make the best use of lemongrass growing in my garden though there are a hundred more. Do share whether you grow and use it as well!
JOIN OUR GARDENING COMMUNITY ON FB FOR MORE TIPS AND TRICKS!
https://www.facebook.com/groups/1629966650655491/
Subscribe in a reader