INSTALLING A VERTICAL GARDEN
Sooooooooo… I have a vertical garden!!!! Technically I've had it for almost 6 months but an impending move prevented me from installing it, until i lost patience and thought &#$%% i'll move this
too with other things when need be..
Originally i had only 3 of the 6 panels but once they were in place, i realized there was perfect space for 3 more.. Since the electrician had to be back on the morning for the final touch, i rushed(my hubby) to buy 3 more..In my defense, the store is only at a distance of 5 mins from our home.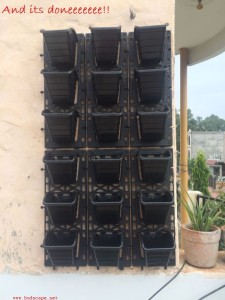 I have wanted a vertical garden since ages and spotting it at a local chain grocery store was nothing less than a magical moment..
Off the topic, this store, SAVEMAX, has an absolutely amazing selection of innovative planters at a great price.I have also noticed that the plastic used retains it's color n texture better than what i have bought from local shops and it is in the same price range, if not cheaper.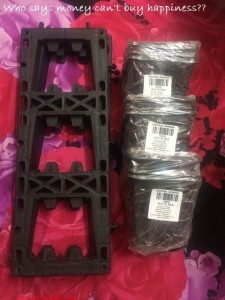 So, each panel has 3 planters that only need to be snapped onto the base that is drilled to the wall. The panels themselves fit into each other to form a neat grid. That's it!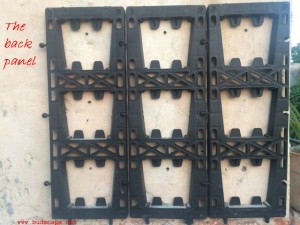 Now the most important question is, what to grow in the beautiful little boxes of joy..? As of now i have cherry tomatoes and strawberries in mind as they make one of the cutest hanging plants in the edible category. For a touch of glamour, i plan to throw in a few marigolds.. What would you suggest?
P.S. While getting this set up, i also gave a few wall planters to the electrician for drilling. Looking at the volume of plants on my terrace he asked me.. "madam apka nursery ka kaam hai kya"(Do you run/own a nursery?)
JOIN OUR GARDENING COMMUNITY ON FB FOR MORE TIPS AND TRICKS!
https://www.facebook.com/groups/1629966650655491/
Subscribe in a reader