Livening up a dull wall..
..like this!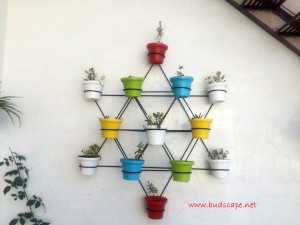 Say hi to the pansies 🙂
This stand has been lying around for ages(God knows why!). Running short on space for winter annuals, i finally decided to get this one installed on a drab wall and never thought it could look this "wow".. I have had similar installations earlier but using colored pots this time has truly given it an edge! What do you think?
These planters came extremely cheap @35/pc. from my favorite store SaveMax. They always have a good selection and great quality plastic so i am sure of the colors lasting long on these.
P.S. I'm looking for pink and orange in these pots.. any vendor suggestions?
JOIN OUR GARDENING COMMUNITY ON FB FOR MORE TIPS AND TRICKS!
https://www.facebook.com/groups/1629966650655491/
Subscribe in a reader