Make Aloe Vera Gel at home – DIY
Growing, sharing, preserving and cooking seem to be siblings to me.
As soon as i ventured out of my comfort zone of flowers into vegetables and herbs, the latter 3 seemed to be the next obvious option. As someone who hates wasting things, i am constantly looking for best ways to use what i grow in my garden. While, this has definitely added to my intelligence quotient( 😛 ), it has also helped feed my skincare obsession( my second love) in the best possible manner. As summers arrive, the first thing i do is harvest some Aloe Vera leaves and whip up a batch of my tried and tested Aloe Vera gel.
Aloe Vera, known as ghritkumari, in Hindi, is almost a wonder plant. Even though i am confident of even a 3-yr old being able to list out it's benefits, i will repeat what i know, for those of you living under a rock:
Soothes sunburn, reduces tan and gives you clear radiant skin

Helps hydrate skin

Soothes and itchy scalp and reduces dandruff

Promotes hair growth

Regular use gives silky, shiny, hydrated hair
If consumed,
It boosts immunity

Reduces inflammation

Promotes healthy digestion

Aids weight loss(combined with a sensible diet)
No wonder, a batch of this miracle always exists in my fridge. While i do not consume it regularly(it tastes bitter), i never forget to apply the gel-ish liquid on my skin and hair.
Making it is easy, quick and simple.
Harvest some fleshy leaves and keep them in a container for 15-20 mins to drain out the
yellow liquid.
Wash the leaves and cut off a little from the top and bottom.
Take a peeler and remove the thorns.
Peel off the skin from the flat side. It is extremely easy to do this with a vegetable
peeler.
Keep the leaves flat on a plate and scrape off the gel with a spoon. You can also peel
the other side and chop the gel but i find it easier this way since it is extremely
slippery.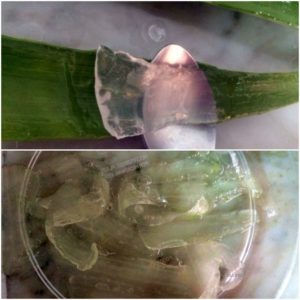 Collect the gel into a blender and add the juice of a lemon. I used 1 medium lemon for 3
medium sized leaves. Lemon helps preserve the gel and has additional benefits for skin
Blend it on high till it turns into a liquid. The consistency will be nothing like the
gels we get in market but they are far from the real thing.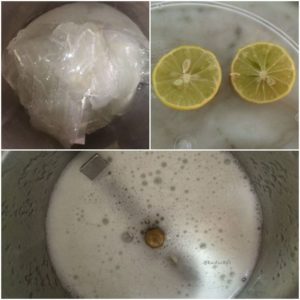 It will foam up, wait for it to settle down a bit.
Pour into a bottle and store in the fridge.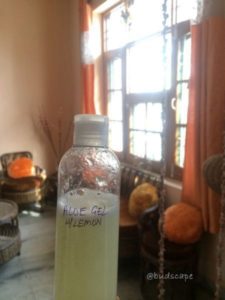 What you get is a slimy gel-ish liquid but this is the real thing that actually works.
You may also add some essential oils(peppermint, lemon) if you wish to but i do not. In-fact, you may even skip adding lemon and replace it with citric acid to increase shelf life.
Shortcut: Clean and chop the leaves with the skin. Blend it all and filter. Done! It will have a greenish tinge though.
What about the trash generated? Compost it indoors! What's the EcoBin for?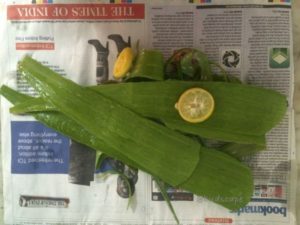 Since i am obsessed with aloe gel in summers, i also own a few from known Indian brands (Patanjali, Guardian Pharmacy, The Nature's Co.) that i use while travelling but nothing comes close to this.
(THE NATURE'S CO. ALOE VERA GEL , GUARDIAN PHARMACY ALOE VERA GEL,
PATANJALI ALOE VERA GEL)
The best i have come across till date may be the gel from The Nature's Co. which claims to be all-natural and also costs a bomb. It does have a juice- gel type consistency with added benefits of peppermint and i like it the most out of the 3. Patanjali and Guardian pharmacy Aloe Vera gels have an extremely artificial texture and are sticky in an uncomfortable way.
How do i use this gel?
Apply it to slightly damp skin after bath or sun-exposure(Clean the skin of sweat before




applying).

Use it as a mixing medium for skin and hair packs.

Apply a thick layer as a mask for hydration and wash off after half an hour.

Massage onto the scalp and hair pre-shampoo.
Precautions:
Do not lick your lips or face after applying this gel. It is extremely bitter.
Do not expose skin to sun, a few hrs after applying this gel. It may darken the skin.
So, that's all i know about Aloe Vera and i urge you to try this gel once. You will be hooked, i promise!
Till then,
Happy Gardening
CYA!
JOIN OUR GARDENING COMMUNITY ON FB FOR MORE TIPS AND TRICKS!
https://www.facebook.com/groups/1629966650655491/
Subscribe in a reader