MY SEED SOWING EXPERIMENTS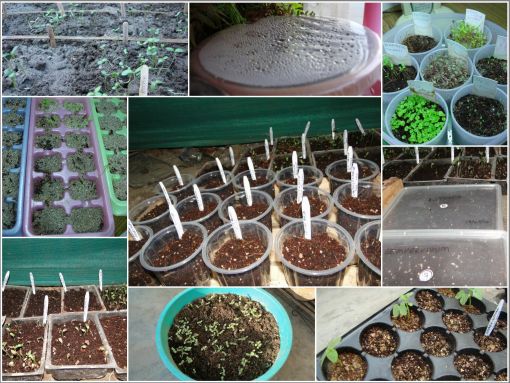 When i'd first discovered the fascinating world of gardening, like every newbie, i was over-enthusiastic about seeds. I'd scan the pages of popular gardening blogs day and night for seed sowing tips and remember being awed by the rows of seed trays, heating pads,germination pics,fancy grow lights, flashy seed packets and all that jazz. I was also naive enough to not know what was actually apt for my own location and climate and hence tried to imitate each of the techniques i'd read online about, failing as well as succeeding in the process!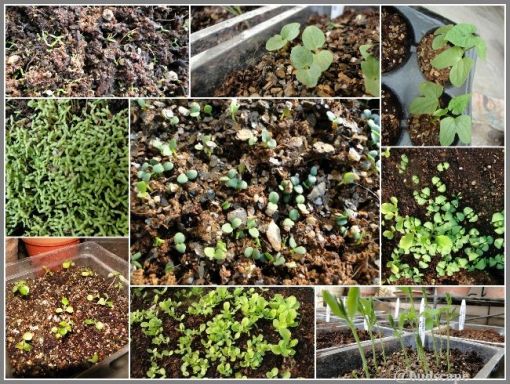 But well, life doesn't come with a manual and you grow 'n' learn!!
I must have tried every technique under the sun that i'd read about and probably used all kinds of containers trying to figure out the best way to get seeds to germinate. I am also a bit proud of the fact that i did manage to succeed in most of these experiments!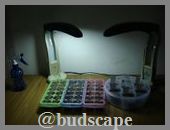 Here's sharing snippets of my seed-sowing adventures..
SOWING SEEDS IN DISPOSABLE PLASTIC GLASSES
This is one of the mediums i still use. Plastic/Thermocol disposable glasses are great for sowing small quantities of seeds. They retain moisture well for summers. The downside: they are not really re-usable unless you take the pain of washing and storing, hence not very environment friendly.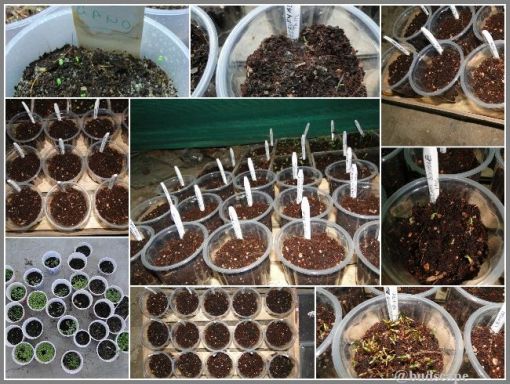 SOWING SEEDS IN PLASTIC FOOD BOXES
Larger surface area, hence more qty. of seeds can be sown but they are not very deep hence seedlings need to be transplanted earlier. also, they pose the same environment concerns as disposable glasses.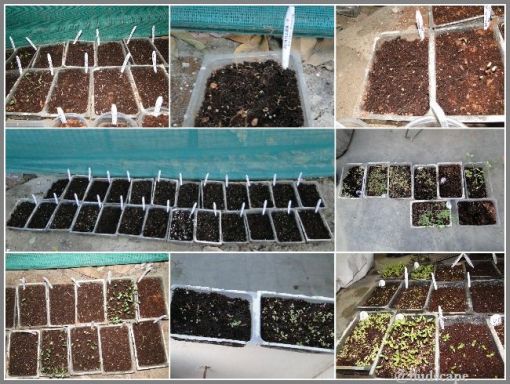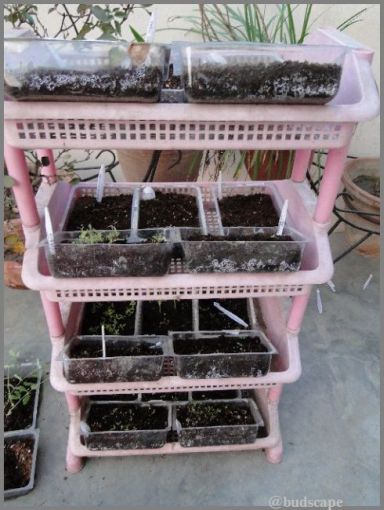 SOWING SEEDS IN PAPER BOXES
This was started as a fun project but i quickly realized the benefits. One, the paper boxes can be made easily using newspaper and hence is a great way of recycling. Second,they are cost-effective. They hold up surprisingly well if made using layers of newspaper and are good for fast germinating seeds. The only thing is that you should keep them on a dry surface to prevent rotting from the bottom. Also, if you tend to kill seedlings while transplanting, make these in a smaller size and sow one seed per unit. Then, just plant along with the seedling wherever you want to. The newspaper will melt away without disturbing the roots. This is recommended only for non-edible plants. If anyone needs to know the process of making these, it is very easy and i will share if asked.
P.S. These are great for starting bulbs!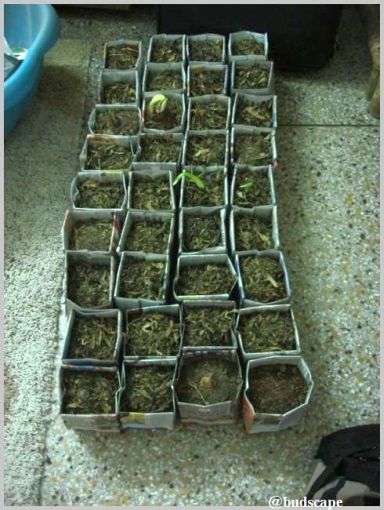 SOWING SEEDS IN PLANTERS
This is my favorite most fuss-free method. Using medium sized planters allows me to sow one packet per pot and lets the seedlings grow roots nicely before transplanting. Also easy to handle and re-usable. Leftover seedlings bloom in the pots itself. Win-win! I also sow direct-grow seeds in larger planters and let them be!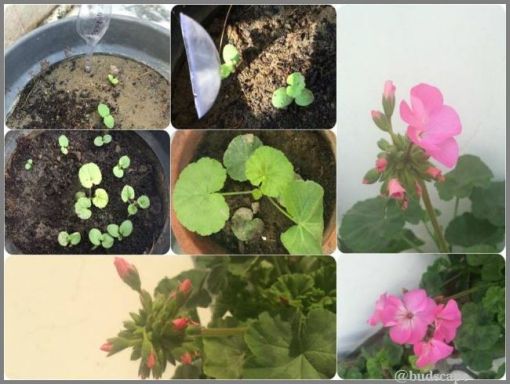 SOWING SEEDS IN REUSABLE PLASTIC BOXES
This works the same way as disposable food boxes but re-usable and stay put for seeds that take longer to germinate. The ones with lids are great for sowing delicate seeds.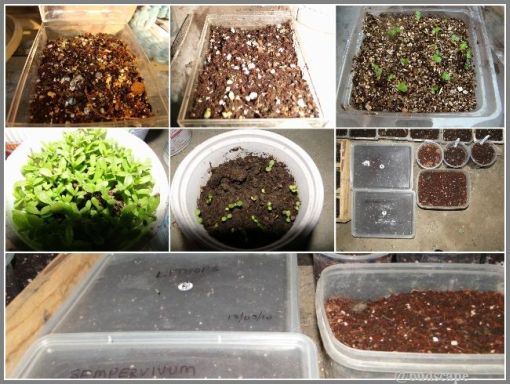 SOWING SEEDS IN SEED TRAYS
This is the favorite method of serious growers and nurserymen, for all the right reasons. Though time consuming, this method minimizes seed wastage and allows each seedling to grow in it's own space and hence develop a great root system. You can easily take one seedling at a time and even with uneven growing pace, the smaller ones are not lost to the bigger ones! Good for expensive/lesser qty. of seeds.
SOWING SEEDS IN PLASTIC TUBS
I still use this method for direct sowing vegetables on my terrace garden and it works great! The only things to take care of are drainage and amount of seeds sown. The root system develops well owing to great depth and any extras can be moved/thinned easily. Tubs also do not dry out quickly!
SOWING SEEDS DIRECTLY IN GROUND
I have had a lot of fun ( and back-ache!) doing this, diving the area into sections and all. If the seed-bed is made properly taking care of drainage, this is a actually a very successful method for both transplanting as well as direct sowing. The root system develops nicely as well. The downside? Rains can flood the seed bed if not raised and you will have a hard time saving the seedlings. Also, LOTS OF WEEDS!!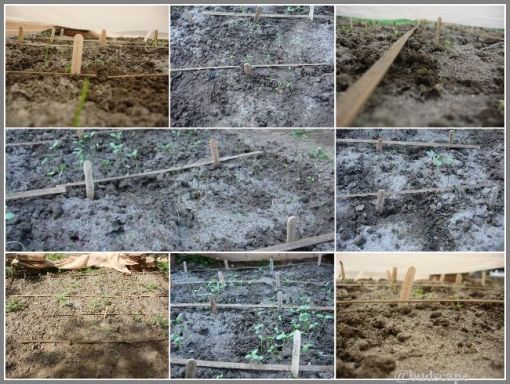 SOWING SEEDS IN ICE TRAYS
I did this because i just HAD TO. There were some spare ones lying around and i was in the phase of sowing seeds in just about anything! Maybe because i always wanted to be a scientist and hence loved over-experimenting! The seeds did germinate but i saw no point in using these. Not deep and less surface area. Good for one seed per division like a seed tray, but only to be used as a last choice!! Not recommended, just for fun!
SOWING SEEDS IN MASALA CONTAINERS
I was constantly raiding the kitchen for silly ideas and this was one of them! They provide good depth and are OK for one seed per container but no point in using unless you already have some spare lying around and are obsessed with sowing seeds! Wouldn't buy for this purpose though!
What is your favorite way of sowing seeds? Did you too have a lot of fun learning the process? Do share in the comments!
JOIN OUR GARDENING COMMUNITY ON FB FOR MORE TIPS AND TRICKS!
https://www.facebook.com/groups/1629966650655491/
Subscribe in a reader
ALSO READ