So me and my garden have been confused lately.. There were plans of moving that got halted, it's 40 degrees(Celsius!) and the maid i entrusted to water my garden, in my absence, never turned up! This resulted into a lot of chaos, confusion and crying because apart from some perennials, i lost ALL the summer seedlings i had sown except gomphrena that survived by pure magic. So instead of the 100's of zinnias i had dreamt of, i have only ONE seedling that had survived an earlier transplant. I also lost my tulsi plant, the fruiting tomatoes, curry patta, thriving mint and some roses among others 🙁
In addition, i had already lost the first batch of sunflower seedlings to squirrels and this year i was really craving all the yellow red white sunflowers a lot!!
Needless to say this had affected me so much that i had actually stopped visiting the garden except for occasional watering that made me even more depressed but thankfully i realized i might put myself into a nasty loop if this continues! Hence i am up and back after shedding tears over the lost ones and not letting it dampen my spirits because i am a fighter and nothing weakens me more than a dying garden.
So what are we upto now?
To begin with, spending Rs.500 at the nursery can actually do wonders! I bought 25 plants including sunflowers, gaillardia, ornamental chilies, coleus, ferns, artemesia, syngonium and tulsi.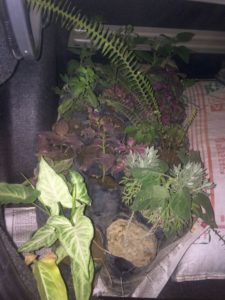 I skipped zinnia as it's already in bloom and it won't survive the monsoon anyhow. There were also no fancy sunflowers but, well, there's always the next season. Also, at my parents' home, the peppermint zinnia i had so lovingly sowed, is in full bloom so i'll claim it as mine and calm my cravings!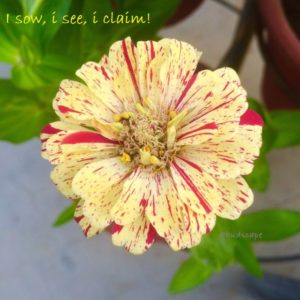 Yesterday was to time to finally don my garden gloves and get back to work.I sowed dhaniya(coriander), tomato, tulsi and lemon balm seeds and also emptied the (dead)seedling pots because i can't cry over them infinitely. I also had a water fight with the mealy bugs on bell peppers and hibiscus. So far, I seem to be winning the war.
It's not possible to put into words how uplifting the feeling is! Today i am all charged up to get my garden back into it's beautiful shape!
On my to-do list:
Planting the annuals
Cleaning up the mealy bugs with water and spraying neem
Setting up my eco-bin that has been cleaned and put to dry since too long
Checking on the existing batch of compost i had layered in a wooden fruit box(I asked out vegetable vendor if he had a box to spare and he obliged)
Hunt down and plant the seeds for cooking basil
Locate some monkey-proof spot in the garden to grow papayas
Try to DIY cocopeat basket liners(because i am the over-ambitious kind)
With so much to-do in the garden, i should probably stop typing and hunt the gloves!
Cya soon as i have promised myself to post everyday because it really gets me, the garden and the blog going!
Happy Gardening 🙂
JOIN OUR GARDENING COMMUNITY ON FB FOR MORE TIPS AND TRICKS!
https://www.facebook.com/groups/1629966650655491/
Subscribe in a reader