USES & BENEFITS OF EPSOM SALT FOR PLANTS TO IMPROVE PLANT HEALTH
Epsom salt is nothing short of a mystery in the garden world. All gardeners hear about it and how i can make thier plans healthy and blooming, but few know about it firsthand. Maybe because it sounds like a complicated chemical or maybe i doesn't look like something that can actually do wonders! Let's go ahead and demystify the uses and benefits of epsom salt for plants.
WHAT IS EPSOM SALT?
As fancy as the name sounds, Epsom Salt is just Magnesium Sulphate MgSo4 crystals. Mg & S are trace elements extremely vital to the growth of a plant. To clarify, EPSOM SALT IS NOT SENDHA NAMAK, as most people seem to think.


Magnesium aids chlorophyll formation by aiding the plant in photosynthesis and allows a plant to take up nutrients in a better manner. It also boosts a plant's ability to flower, which, usually is the ultimate goal. The deficiency of Magnesium shows up as yellowing laves with dark veins and spindly looking weak plants. 
Sulphur (or Sulfar)  is essential for the formation of certain vitamins, proteins and oils that contribute to the health of a plant. Although needed in trace amounts, deficiency of Sulphur can't be ignored. It also helps increase immunity to diseases.
USES & BENEFITS OF EPSOM SALT FOR PLANTS
HOW TO USE EPSOM SALT IN VARIOUS WAYS FOR THE GARDEN
The most common method that shows quickest results is
EPSOM SALT SPRAY FOR TOMATOES & OTHER PLANTS
Mix 1 tsp. Epsom Salt into 1 ltr. of water and spray over foliage every 15 days. Unless the plants have a deficiency(verified by a soil test), there is no need to increase this frequency.
The second method is
ADDING EPSOM SALT DIRECTLY TO ROSES & OTHER PLANTS' SOIL
Sprinkle a tsp. of crystals around the base of a plant fortnightly. Adding epsom salt to soil is highly beneficial for roses, azaleas, gardenias, rhododendron, tomatoes and peppers.
BENEFITS OF EPSOM SALT FOR PLANTS INCLUDE:
REDUCE TRANSPLANT SHOCK WITH EPSOM SALT
Sprinkle some Epsom salt into the transplant hole before moving in new seedlings or plants to help them settle better.
GREENER GRASS WITH EPSOM SALT
Sprinkle Epsom salt over established lawn or over the soil while sowing grass seeds to get a lush green lawn.
PREVENT/CURE LEAF CURL WITH EPSOM SALT
A dose of Epsom salt is extremely helpful in preventing and curing leaf curl in plants like peppers.
Epsom salt boosts the growth of these and also prevents stagnant distorted growth on the top of palms.
Soak the roots of a plant in Epsom salt solution for half and hour before re-potting to help minimize loss.
Apart from the incredible uses of epsom salt for plants, Epsom Salt also comes handy in the beauty and wellness department.
TIRED FEET AND MUSCLES: Soak tired feet in a tub of warm water and Epsom Salt crystals to relieve pains, numbness, relax muscles and detox. It is believed to draw out all toxins from the body, thereby, is also a good addition to bath water.
In-fact, it is extremely easy to DIY your own version of bath salts that are sold in fancy packaging and exorbitant prices in the malls.
Mix a handful of Epsom Salt crystals with a few drops of your preferred essential oil and food color (if you wish to). That's it! Shake well and use in the bath tub.
Now, the most important question..
As with everything these days, it is definitely available online. Type BUY EPSOM SALT ONLINE INDIA for results on Amazon and Ebay.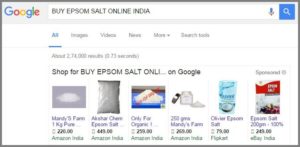 But, i like to buy a box of 400 gms. from our local chemist in Ludhiana for Rs.20. This is the cheapest it can get! If anyone wants, i will share the exact address.
Till then, happy experimenting with MgSo4.
CYA
P.S. Once,before going away on a vacation, i'd sprinkled lightly crushed Epsom Salt crystals in all the pots, thinking they will be watered in the morning by the maid. It was a chilly morning when my husband saw the crystals and informed me on phone that, it is so cold, ice crystals have formed on the soil in the pots.. 😛
JOIN OUR GARDENING COMMUNITY ON FB FOR MORE TIPS AND TRICKS!
Subscribe in a
reader