I love how this rose changes color with size going from a nice pink to pure white.. i know there are roses that change colors but this is one of those kinds that change form too.. and this makes it quite cute.. only the strange thing is that it never behaved this way earlier.. maybe the result of move? maybe it's trying to express it's (dis)pleasure? I haven't changed the soil though.. well.. mysterious but sweet!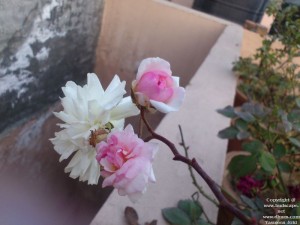 I am almost done arranging all the pots the way i want to and during cleanup i found loads of volunteer seedlings including the summer verbenas which i totally did not want to throw away.. and hence they live under the shadow of this poinsettia now.. i figured the poinsettia will take some time to fill up and meanwhile the verbena can spread and bloom and hide the bare stem.. and you know just generally do its thing.. also a good way to keep the soil alive..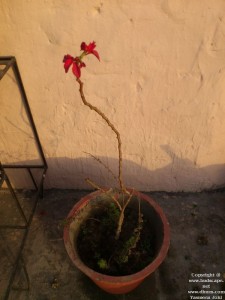 The impatiens re now ready to thrive and soon they all will go into their own pots for a wall display.. the cutting of variegated impatiens i stole bought from my grandpa's garden in Palampur has taken off too.. though i did not expect but i pulled that bare stem out of curiosity today and it's also got roots.. well.. a root as of now, but i suppose they will fill up.. yippeeeeeeeeeeeeeeee!!
JOIN OUR GARDENING COMMUNITY ON FB FOR MORE TIPS AND TRICKS!
https://www.facebook.com/groups/1629966650655491/
Subscribe in a reader