HOMEMADE Herbal Hair Oil for HAIRFALL
When i started gardening as a teenager, all i wanted in my garden were flowers. I wanted flowers because i wanted to cut them and display them indoors..and i wanted to display flowers indoors because that's the first thing interior designers do(just kidding though)..and i always knew i wanted to become an interior designer.
So, like all level 1 gardeners, i pursued garden blogs day and night so as not to miss anything. Since garden blogs were almost a non-existent concept in India about 10 years ago(which is why Budscape was born btw), all i did day and night, was read blogs from other parts of the world, hence introducing me to the wonderful world of herbs. Herbs were the "in" thing in gardening those days and not wanting to be left behind i had my share of hits, misses, experiments and stupidities before getting bored and coming back to flowers. What drove me away was perhaps the non-availability of seeds and my limited knowledge about the benefits of herbs. I just wanted a herb garden..not sure why though.
Fast forward a few years when i went to Delhi to study and the seed shops i discovered there changed my life! Rosemary, lavender, oregano, basil, thyme.. u name it they had it! So while rosemary never came up, oregano and lavender died in their youth. Basil and thyme had ceased to interest me. Mint was always there ready to be made into a chutney, so i took it for granted. And i didn't even consider coriander as a herb since it was so always-there. Herbs back then were supposed to be "exotic".Lemongrass just grew and grew and eventually got bored of me with me not knowing what to do with it 😐
But, over the years, me and my garden have grown together. I have transformed from an awkward wide-eyed teenager to a married woman with a home of my own. Naturally, age comes with added hobbies(or responsibilities) and cooking, homemaking while taking care of myself became as important as having cut flowers indoors. I have also matured from a teenager wanting everything to an adult having specific needs and this is why me and my herb garden, though limited, get along fabulously well now!
THAT was perhaps the longest intro ever to a post! Let's take a break(or a kit-kat)
Done?
Ready to move ahead?
OK.
So what do i have in my garden right now?
TULSI OR HOLY BASIL
MINT (needless to say though. I bought some cuttings all the way from Kashmir and it's the best mint ever)
ALOE VERA
HENNA
CURRY PATTA
NEEM
In the pipeline:
DHANIA(As soon as the geraniums clear up space under the lemon plant)
ROSEMARY
BASIL – ITALIAN
OREGANO
LEMON BALM
LEMONGRASS
Being a DIY kind of a person, i can  type up pages n pages of recipes for these herbs(will share some soon), but what i am doing today is making an attempt to revive my crowing glory i.e. brewing a herbal hair oil. The recipe is simple.
Grab a handful of mint, neem and henna leaves. Wash and let dry. Chop up some aloe vera leaves(cut from the bottom and allow all the yellowish liquid to discharge, then wash the leaf). Put it all in a pan(preferably aluminium). Cover with mustard oil and heat on low flame till the leaves are done to death! Cool overnight. Strain. Store. Use. Thank me for your awesome hair.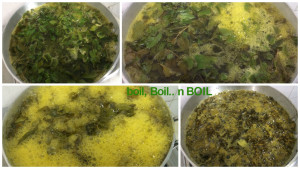 All of these herbs are extremely nourishing for the scalp and hair, while mint and aloe vera provide added cooling benefits. Neem is also anti-bacterial hence this combination is almost perfect for summers.
Do try a batch and swap notes with me. Time for you to stop reading and start chopping while i type up some more herbal recipes. Cya!!
P.S. I remember when i started "herb gardening" seeds were not easily available, there was no concept of online seed shops and no Facebook. So i toured the local wholesale market with our driver, on foot, looking for rosemary seeds for over 2 hrs. Eventually some shopkeeper decided to get the better of me and sold me some "things" that looked like seeds and told me it's rosemary. Of course, they never came up. But, you live and learn!
JOIN OUR GARDENING COMMUNITY ON FB FOR MORE TIPS AND TRICKS!
https://www.facebook.com/groups/1629966650655491/
Subscribe in a reader