How to grow and care for CALADIUMS
Mother Nature is an amazing artist and caladiums appear to be one of her finest creations! In-fact, they can be safely renamed as "saving grace" for summers. When the sun shines a bit too bright and it's rays scorch everything in sight, caladiums still come up without a care to cheer up the garden(and our souls).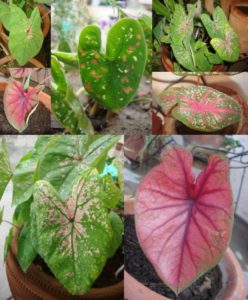 So, if you haven't yet guessed, they LOVE hot weather. High temperature and adequate watering can produce magic out of queer looking little bulbs.
I think of them as a "surprise gift". The whole process of sowing mixed bulbs and waiting to see which pattern comes up from each, for me, is one of the most exciting summer tasks in the garden!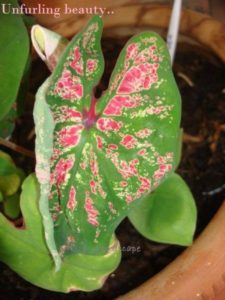 So, how to go about it?
Simple..
Get your hands on some caladium bulbs. They are easily available at local seeds shops or nurseries at the onset of summers. The bulbs are small, dark and stiff(retailing at Rs.10-20/bulb) Press the bulb to check if it isn't soft. Soft and squishy means ready to rot and won't sprout anything. Good quality bulbs usually have a spike or two ready and will sprout as soon as you plant. It is also a good way to know which direction to plant the bulb in, though it will come up even if you sow it upside down. A good thing about caladiums is that they are quick to come up so you can plant them at any point of time during summers and the leaves will show up in a few days.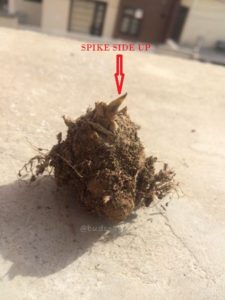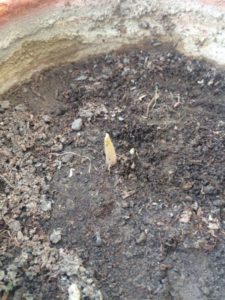 Plant them 2-3″ deep and keep the spike(if any) showing a little.
Water everyday and wait. That's it! Planting in semi-shade(abundant but indirect sunlight)prevents leaf burn and produces the best results.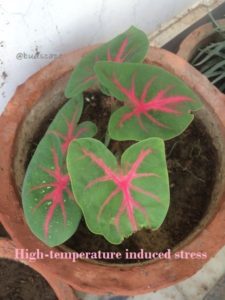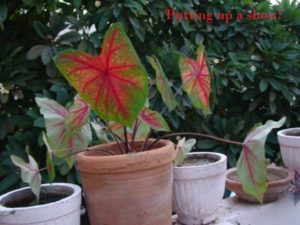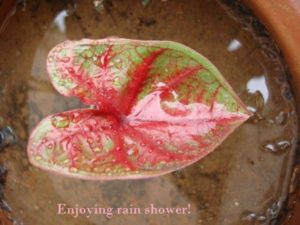 As with any bulb, adequate drainage is important because standing water can rot the bulb and you will be left wondering if the bulb vanishes into soil!
They will continue to put up a show as long as the weather is warm .As winters approach,the plant will start dying back. Worry not, it is only the leaves not the bulb. When the growth becomes negligible, cut back all foliage and dig softly from the sides of the pot for bulbs. Never poke a tool into the center as you may damage the bulbs. Also, caladiums multiply as they grow, so one bulb may have now formed ten.(Hence, richer the soil, better the bulbs). The best thing to do is loosen up the soil from the sides and then dig for the bulbs with your hands. Shake off all dust and allow the bulbs to dry in shade. Give a shot of fungicide(i don't) if you wish to, and store in paper bags till the next season. Enjoy winter flowers and wait impatiently for summers to arrive again!
Though there exist hundreds of beautiful patterns, my favorite has always been the one with a splattered effect. What's yours?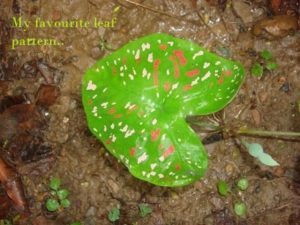 Do share your pics and experiences.
Till then,
Cya,
Happy Gardening 🙂
JOIN OUR GARDENING COMMUNITY ON FB FOR MORE TIPS AND TRICKS!
https://www.facebook.com/groups/1629966650655491/
Subscribe in a reader